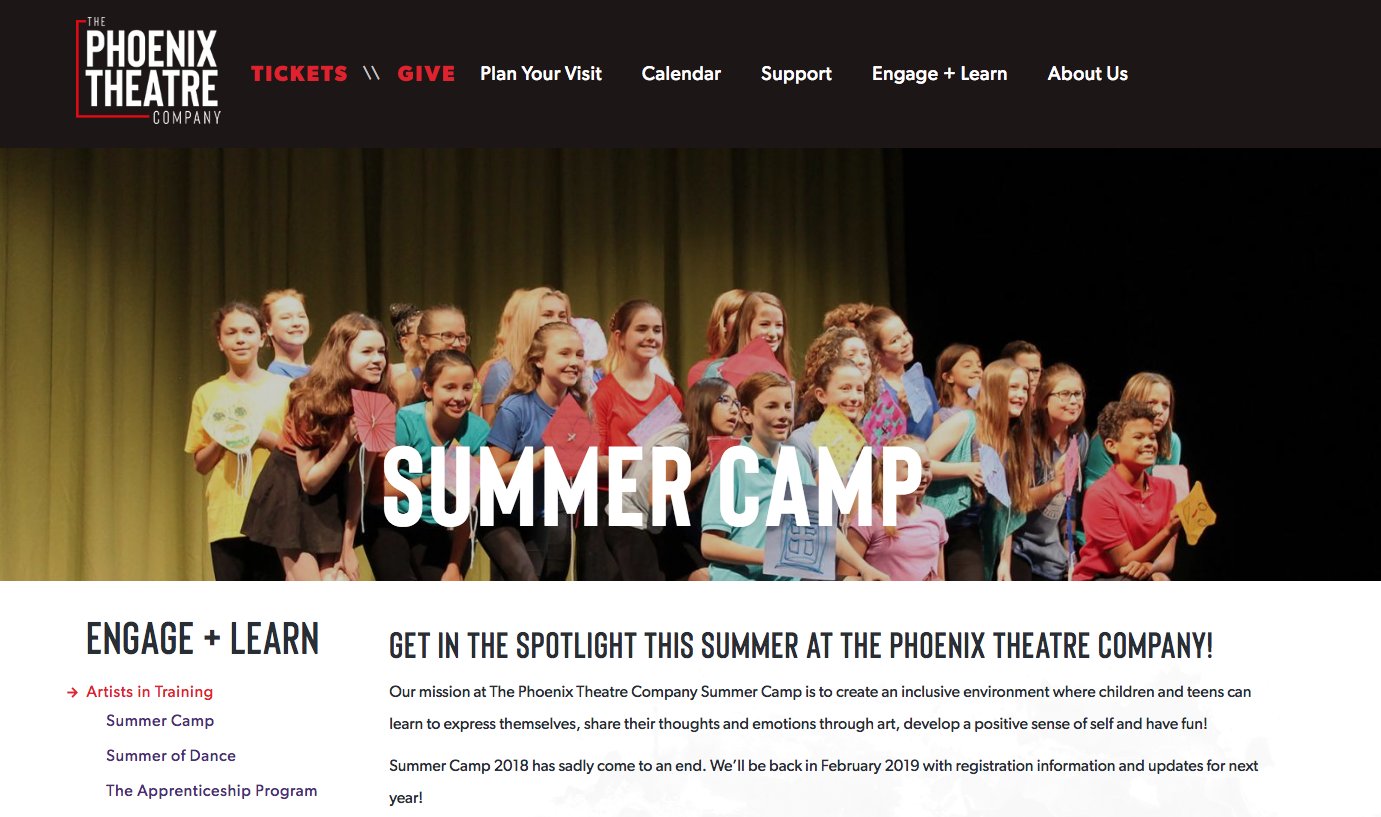 4x3 is proud to announce the completion and launching of The Phoenix Theatre Company's new website.
Developing a Custom Website
To stand out to their audience, Phoenix Theatre wanted to break away from basic web templates and create a custom web design that reflected the company's brand, shows, and artistic community. And we helped our client do just that!
4x3 developed a unique, yet identifiable, style for Phoenix Theatre by having a consistent color scheme and design technique across the site. The uniformed use of graphic design allows Phoenix Theatre to effortlessly represent its brand.
Fully Functional and User-Friendly
Due to the content-rich nature of the website, we worked to incorporate Drupal modules to aid in simple navigation and organization of the websites, for both administrators and visitors.
"4x3 brought us leaps and bounds ahead of our old website to something that gives us the tools and flexibility to do just about anything. We love Drupal and we continue to get lots of great feedback from patrons and supporters!"
Vince Malouf | Digital Strategy Manager
The custom modules and intelligent navigation tools ease the burden of updates for this content-rich website and enhances the website's usability, social integration and local SEO. The site can now be managed without any high-level programming expertise while remaining while fully incorporating responsive web design.  
A responsive design makes it possible for visitors to navigate the website easily, from desktop to mobile, providing a great user experience. 
ABOUT THE PHOENIX THEATRE COMPANY
As the largest producing regional theatre company in the valley, The Phoenix Theatre Company creates exceptional theatrical experiences by using the arts to articulate messages that inspire hope and understanding.
The Phoenix Theatre Company believes the arts are essential because they foster the hero within, create a greater understanding of cultural and political differences and—in an era of simulated virtual gatherings—continue to provide a forum in which the community from all walks of life can gather live and in-person. By inspiring empathy and the ability to see things from another's point of view, The Phoenix Theatre Company encourages qualities that lead to visionary leadership and build communities.
Years of Experience in Web Development
4x3 has been developing websites since it was founded. As an integral part of our web design process, 4x3 implements thoughtful web development during all phases or building and programming (or reprogramming) a website; including Drupal, eCommerce, and custom CMS.
We provide designs that have a clear typographic structure and image focused, content-rich layouts that perfectly represents your company and its mission. Our designs get to the root of user experience design while also maintaining a consumable method of organized page content.