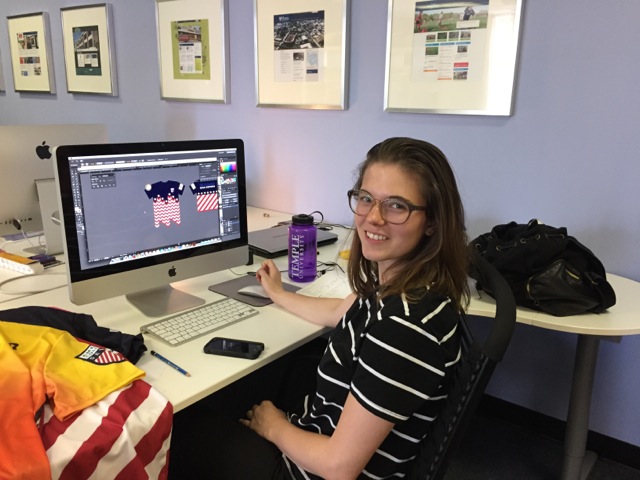 There's a new college intern at 4x3. Last week we welcomed Katie Larsen, a rising senior at Temple University's Tyler School of Art, to our Ardmore office. Larsen, a graphic and interactive design student, hopes to land a job after college applying her design skills across print and digital platforms.
Larsen was looking for an internship in or near Philadelphia that offered the opportunity to explore interactive (digital and print) design, as well as work on responsive, rich media websites. At 4x3, Katie will get to do everything from working in a state-of-the-art Drupal CMS to designing t-shirts. Plus, she gets to participate in the process of finding solutions to a wide range of client needs.
"It's been useful to be exposed to that already, even just hearing the conversations the office is having in dealing with clients and how to think about approaching Web design [in a real-world environment]," she says.
Paid Internships Matter
Another big factor in Larsen's decision to work with us this summer is that she will be paid for her efforts. 4x3 is a signatory to the AIGA Philadelphia Paid Internship Pledge, an initiative encouraging local employers to offer fair compensation to design students, "in an effort to uphold the value of design, support better business practices and encourage meaningful experiences for interns."
4x3 is proud to participate in this effort and support students like Katie.   
"The ultimate goal is to be paid to be creative, and college is a stepping stone on that path," Larsen notes. "I feel if I only had the option of an unpaid internship I would probably rethink what I was doing in college. I view it as an investment and, working for free, I feel like that's indicative of not really learning valuable skills or skills that can translate into something in the real world."