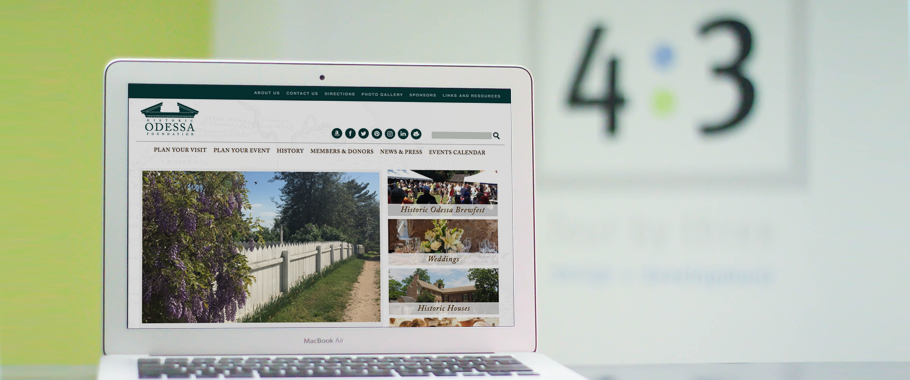 When approached by the Historic Odessa Foundation for a website redesign in 2010, 4x3 was tasked with implementing an efficient, user-friendly solution that prioritized content rich management and custom navigation. The resulting website design allowed visitors to clearly discover and understand Historic Odessa's wealth of information.
Organizing a Content Rich Website
To effectively organize all the important historical information about Historic Odessa's buildings and grounds, as well as their nonprofit mission, 4x3 created a responsive website design that divided the information into readable, easy to navigate sections. On the top of the page, there are two custom navigation bars for visitors to quickly find the information they need.
Historic Odessa's Dual Navigation Bars
The top dark green navigation bar showcases general links that invite visitors to learn more about Historic Odessa Foundation, such as the "About Us" and "Sponsors" pages. Alongside these links, there are more direct call to action links, which provide functionality and ease of accessibility to the first-time visitor, such as directions and contact information. 
4x3 decided to further clarify the user experience for Historic Odessa visitors by complementing the top dark green navigation bar with a second navigation bar below the logo. This navigation bar features links that showcase current updates as well as other callouts to encourage visitors to plan their visit. In unobtrusive but visible all-caps text, the navigation bar suggests that you learn about Historic Odessa's history, become a member, and keep up to date with foundation news.
The Importance of Custom Navigation Bars
For both returning and first time visitors, these dual navigation bars highlight current happenings at Historic Odessa that they might be interested in attending. This not only encourages visitors to want to return to the website and visit Historic Odessa's grounds again, but also enables better organic search results through fresh content updates. The integration of content updates with a seamless, simple but beautiful website design is the best way for visitors to find what they're looking for and facilitate ongoing engagement with the Historic Odessa Foundation.
Updating and Managing Content on Historic Odessa Foundation
In addition to organizing Historic Odessa's information through good web design, 4x3 also updates and manages content for the foundation regularly. 4x3 creates and pushes out social media posts across all platforms, promotes Facebook event posts, and sends out a reminder newsletters for Historic Odessa's various exhibitions and memberships.
By creating a user-friendly, accessible destination in the form of Historic Odessa's website, 4x3 was able to ensure that any social content updates link to a source that guides the visitor to more information and motivates them to visit Historic Odessa, Delaware.
ABOUT HISTORIC ODESSA
The mission of the Historic Odessa Foundation is to preserve and promote the homes, grounds, collections and historic legacy of Odessa, Delaware. The Historic Odessa Foundation is charged with raising money, maintaining Odessa's historic assets, supporting scholarly and archeological work and educating the public in the history of the town and the state of Delaware in the 18th and 19th centuries.