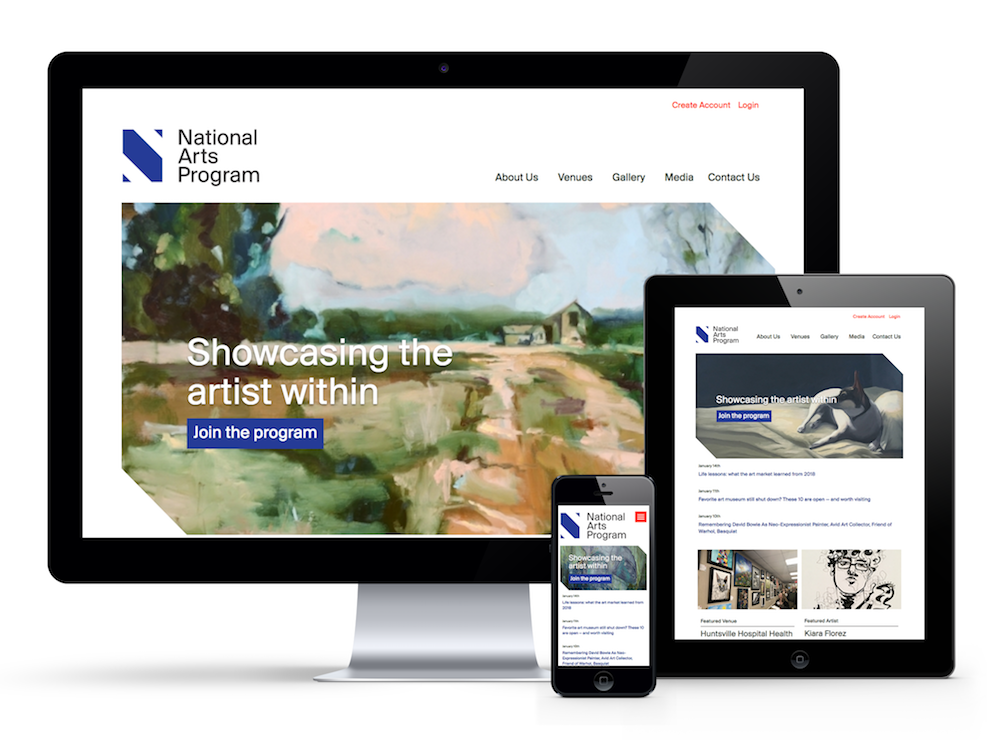 It's important that a website always reflects the company's current strategy and communicates it's brand values. Design and development are crucial when thinking about website redesign. By working closely with The National Arts Program, 4x3 was able to do a full web redesign in coordination with the launch of their new logo and new brand from J2 Design.
New Year, New Look
We updated the NAP website to utilize their new brand with a fresher, brighter look.
With the new homepage, we hoped to improve the overall site structure and usability. To do this, we focused on connecting the new brand with NAP's mission of "Showcasing the artist within".
Visual elements also became a center-piece; highlighting the featured artists, venues, and social media. Also by implementing a wider break point and simplified navigation, NAP was able to move away from a cluttered homepage to a more open and navigable design.
The NAP website features secure login for artists to dynamically upload work to the collective online gallery. The website currently features over 500 artists around the country and showcases over 9,000 original works of art, and growing.
About National Arts Program
The National Arts Program empowers organizations across the country to host art exhibitions that showcase the creativity of their employees and families. By providing critical resources, national reach and inclusive program design, the NAP is the only nonprofit that supports engagement in ways that validate individual expression, forge new connections, and transform spaces.
Visit the website portfolio »
Check out the new website »
4X3 IS YOUR PARTNER FOR WEB DESIGN & DEVELOPMENT
From creating user-friendly websites to developing beautiful custom modules, 4x3 is your go-to partner for all your web needs! Our expertise in web design and development has companies returning to us, year after year.
Contact us for a web design consultation, and we will work with you to help you create the best website to compliment your company and your brand. Already have a website? We would be more than happy to give you a website audit to identify your site's strengths and vulnerabilities.