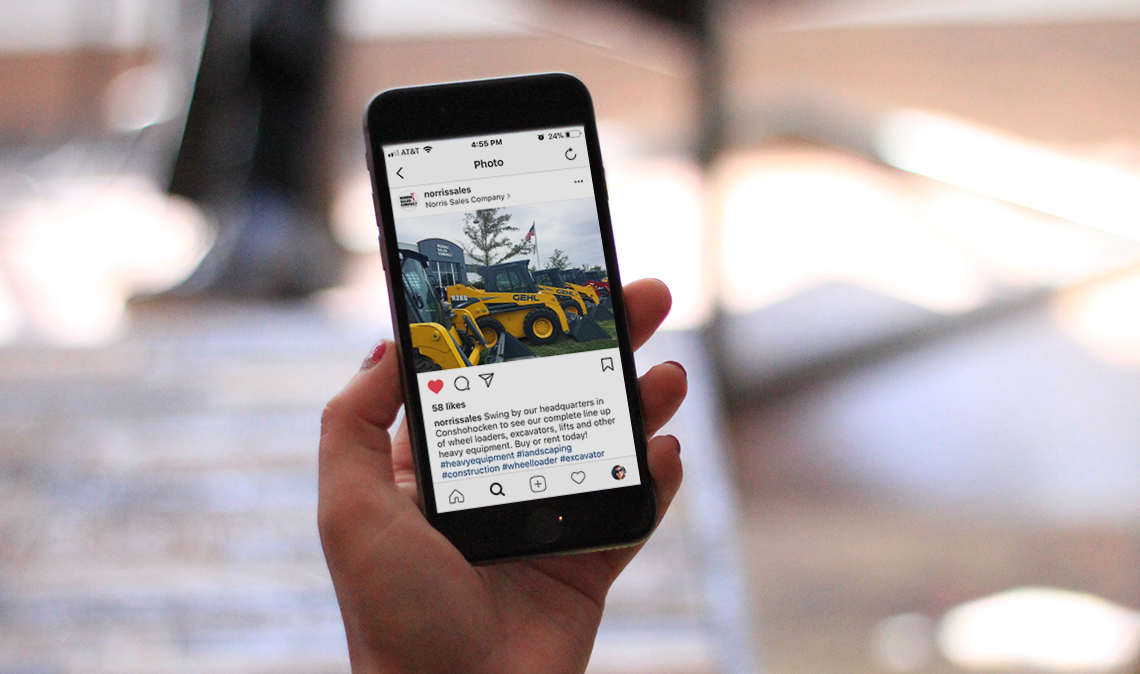 Over the past several months, 4x3 has been working closely with Norris Sales to create weekly marketing campaigns to help drive traffic from social media back to the website. Each targeted campaign focused on a specific aspect of the Norris Sales' inventory, ranging from construction equipment to in-store consumables. 
Content marketing and social media marketing strategies have been implemented to ensure maximum engagement and web traffic. Every targeted campaign has included an online news article and a series of scheduled social media posts to direct the most people back toward the Norris Sales website. 4x3 also helps Norris Sales manage their Facebook, Twitter, Instagram, Linkedin, Pinterest and Youtube accounts.
Using Social Media to Develop Brand
Social media is not a common medium to use when marketing heavy construction equipment. Most customers and manufacturers don't have time to be scrolling through their Twitter feed looking for new rental deals and the newest models of landscaping equipment. As such, every social media campaign needs to monopolize on visually appealing content that grabs a potential customer's attention and draws him or her back to the website. 
To accomplish this, 4x3 designed several original graphics to be placed on images used for online articles and social media. Ranging from simple logo inclusion to custom stamps, every graphic is visually appealing and recognizable while not drawing away from the image content or overall message. 
Branding can go a long way. The key is to be visual and active in order to maintain and build your audience. Being consistent with your brand and message guarantees that potential customers will think of your brand first. 
Recognition and Response
The response to Norris Sales' new marketing strategy has been overwhelming. To increase followers and engagement on a variety of social media platforms, the targeted campaigns have ultimately boosted online presence, generated organic SEO, and improved search engine ranking. 
On top of that, manufacturers that work with Norris Sales have noticed and applauded the social media marketing efforts. In July, Toro gave Norris Sales a shout out in their monthly newsletter. They even included a branded campaign image from the Norris Sales Instagram account (shown below).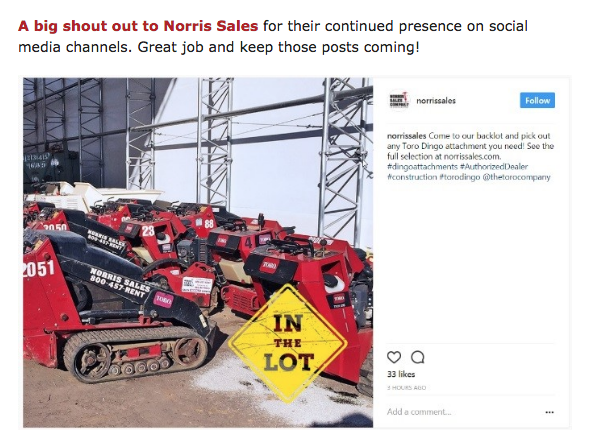 Several other manufacturers, including Wacker Neuson and Takeuchi, have also engaged with Norris Sales' social media by liking and sharing the posts with their own followers. This type of engagement is very rewarding for Norris Sales; it shows dealers that they are committed to marketing their equipment and brand along side Norris Sales to generate active sales and rentals to the region.