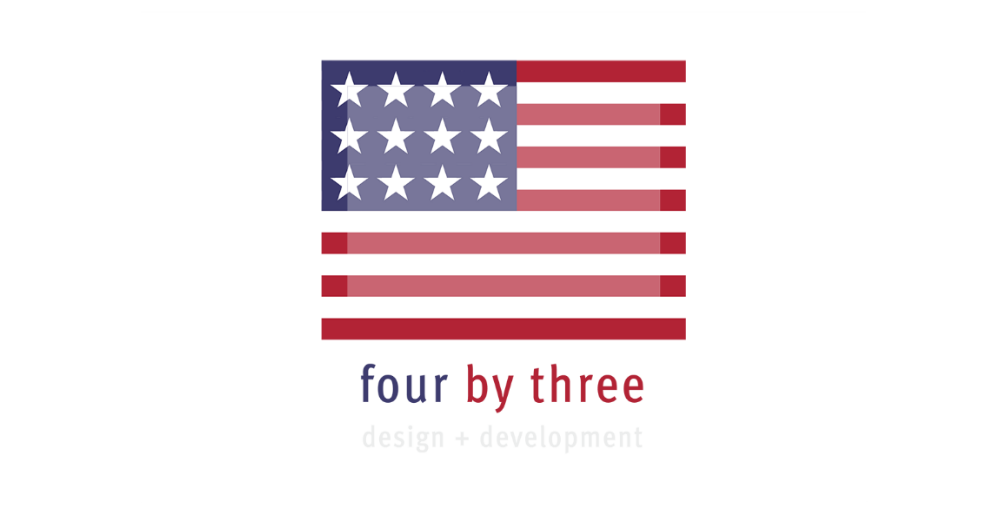 4x3 is proud to supply in-house services to all our clients, guaranteeing that all our work bleeds red, white and blue. This 4th of July, 4x3 is celebrating our roots by looking back at our fun and colorful history.
The following is a timeline about how 4x3 became the design firm you know and love:
---
1996
In a self-declared revolt against tyranny, Stephen Siano left his job and became an independent contractor.
1998
The Eastern Pennsylvanian Rugby Union (EPRU) reached out to Stephen for a custom HTML website to host their rugby news and team/player profiles.
1999
Realizing the company needed a website of its own, Stephen and Amy Siano put their heads heads together to pick the perfect name of the budding business. Thus, during the most American sporting event in the world (the Super Bowl) on the back of a used napkin, 4x3 was born in the USA.
2005
After lending her design skills to 4x3 for years, Amy officially joined the confederation as the creative director. And, united under a single banner, 4x3 became a limited liability company (LLC).
2008
Norris Sales Company signed on 4x3 to host and program their eCommerce website.
2009
In a patriotic move, 4x3 joined forces with The National Arts Program to create a website to bring together thousands of artists from across the United States of America to their 100+ venues.
2010
4x3 went full on colonial after being hired to re-design the Historic Odessa Foundation non-profit website. In an even bolder move, 4x3 took on our first completely pro-bono job designing, hosting and managing the Friends for Friends Charity website. 
2011
Working in a small home office, Amy and Stephen started hiring independent designers and writers to help with the ever-expanding workload.
2012
In an inevitable Manifest Destiny, 4x3 officially hired its first full-time designer and, running out of space in their office, moved operations to the current office space in Ardmore.
2014
4x3 founded its sister company, Seven Sports, LLC (dba URugby). A bit later in the same year, 4x3 began working closely with the Arizona Opera for Web development, SEO and content marketing.
2016
Amy Siano becomes majority owner in 4x3.
2017
4x3 and owner Amy Siano apply for Women's Business Enterprise (WBE) status. Business continues to be great for 4x3.
Happy Fourth of July!